Video
Jack Gottlieb, Bernstein's assistant from 1958–1966, describes the excitement of post-World War II New York City.
© 2008 The Carnegie Hall Corporation.
Focus On
A Helluva Town
Bernstein moved around quite a bit when he first arrived in New York in 1943, fresh out of the Curtis Institute in Philadelphia. In the first nine months he lived in four different places—some of which were less than savory. In response to a letter from Bernstein, written from "a horrid room in a ghastly 42nd-Street hotel," Aaron Copland, acting as a mentor for the budding musician, replied, "Don't expect miracles and don't get depressed if nothing happens for awhile. That's New York."
The period in which "nothing happened" for Bernstein was unusually brief, though it may not have felt that way at the time. While working as an accompanist for dance classes at one of Carnegie Hall's own studios, Bernstein would alleviate the tedium of playing in a steady rhythm by sneaking in syncopated and irregular beats. Freudian analysis enjoyed its cultural heyday in 1940s New York, and Bernstein began regular sessions with a German refugee he nicknamed "The Frau." Rather than pay for her services, he taught her English in exchange.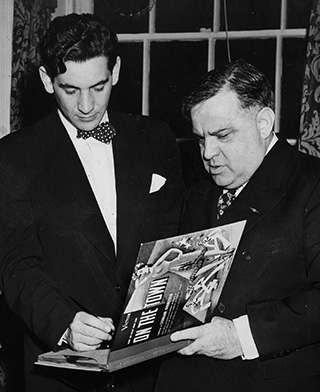 Bernstein autographing his new recording of On the Town for New York's Mayor Fiorello LaGuardia © Photofest
By the end of World War II, Bernstein had achieved considerable renown as a composer and a conductor. A photo from Leonard Bernstein's early career shows Bernstein in a bowtie autographing Fiorello La Guardia's recording of On the Town, the 1944 musical whose story about sailors searching the streets of New York for adventure captured the energy and optimism of the Big Apple.
In the early 1950s, the mood darkened under the fear and suspicion of McCarthyism—but the city remained artistically vital. Picasso and Kandinsky were at the Museum of Modern Art, Eisenstein and Cocteau played at the arty cinemas, and Bernstein's Wonderful Town and later Candide were on Broadway. The urge toward extreme experimentation was also apparent; music critic Alan Rich remembers, for example, "musical events in downtown lofts consisting of burning a violin or a single sonority sustained for, perhaps, two weeks."
With the sexual revolution and radical politics of the 1960s, artistic experimentation in New York only increased. Though Bernstein had championed modern composers like Ned Rorem and Paul Bowles, his acceptance of the experimental had definite limits. "Mr. Bernstein," wrote Alan Rich in one review, "used everything short of a Flit gun last night to kill off the avant-garde in music."
In the 1970s, the economy slumped and crime soared—and Bernstein's public image suffered: Tom Wolfe gave a caustic account in New York of a party Bernstein hosted to support members of the Black Panthers. Increasingly, Bernstein conducted abroad and worked away from New York. The city of the old days was gone.