Causes and Effecting Change
Leonard Bernstein's impressive musical gifts can make it easy to overlook his lifelong and sometimes controversial commitment to promoting political change. This commitment was hardly separate from his musical endeavors—music for Bernstein was a means of creating mutual understanding and peace. The porous border between the musical and the political is a recurring theme in Bernstein's life, and it surfaces as early as 1939, his last year at Harvard when he organized a defiant production of Marc Blitzstein's radical and recently banned opera The Cradle Will Rock, which dramatized the struggle of workers to resist corruption and corporate greed. In the same year, he wrote a senior thesis titled "The Absorption of Race Elements into American Music," which argued jazz was the universal basis of American music.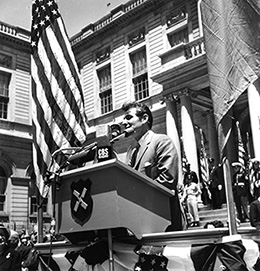 Bernstein on the steps of City Hall, 1958. Courtesy of New York Philharmonic Archives.
By the 1940s he was firmly established as a rising talent in musical New York and his growing public profile gave his political thoughts a larger stage. He wrote an article for The New York Times in 1947 that contradicted the common sentiment that African Americans were largely absent from the world of classical music because they were incapable of appreciating or creating classical music. The problem, he realized, was pervasive discrimination and lack of access to educational resources: "Everything we do to fight discrimination—in any form or field—will ultimately work toward ameliorating the musical situation," he wrote.
As his fame grew, Bernstein's name could lend increasing prestige to a cause or movement. Through music, money, or endorsement, he supported everything from civil rights to nuclear disarmament and the end of the Vietnam War. His numerous activities aroused the suspicion of the McCarthy-era government, and he was one of the many artists monitored for supposed political subversion.
His musical efforts continued to embrace the political. West Side Story and Candide brought overt elements of political critique into musical theater. As conductor of the New York Philharmonic, he promoted the career of André Watts and opened the orchestra to female musicians. Though writer Tom Wolfe mocked Bernstein as a merely trendy political poser in a famous 1970 New York article, a lifetime of effort and action belied Wolfe's conclusion. In 1989, just a year before his death, Bernstein conducted performances of Beethoven's Ninth Symphony in both East and West Berlin after the fall of the Berlin Wall. In the final chorus of the symphony, he substituted the word Freiheit (Freedom) for Freude (Joy). It was a fitting end to a life of music and politics.