The "Serious" Side of Music
One of Leonard Bernstein's great regrets was that he composed so little music. Yet considering the range of his musical endeavors—conductor, educator, pianist, global cultural ambassador—it seems miraculous that he composed as much as he did. A fair number of Bernstein's compositions fall into the category of "serious" or "concert" music, though he consistently blurred the distinction between works for the theater and the concert hall. The Symphonic Dances from West Side Story is now a beloved staple of the concert repertoire, while Mass is a difficult-to-categorize synthesis of Broadway and the concert hall. Further blurring the distinction is Bernstein's tendency to incorporate discarded songs from musicals into his concert works. To cite just one example, part of the Second Symphony was originally a tune called "Ain't Got No Tears Left" from On the Town.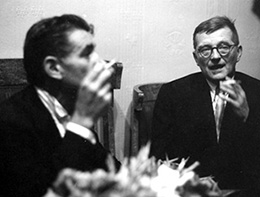 Bernstein with Dmitri Shostakovich in Moscow, 1959. Courtesy of New York Philharmonic Archives.
Not only were Bernstein's musicals derived from literary sources (Voltaire's Candide, Shakespeare's Romeo and Juliet), but also many of his concert works. His Second Symphony is based on W. H. Auden's 80-page poem The Age of Anxiety, and his Serenade is loosely modeled on Plato's Symposium, the great dialogue on the nature of love. Later in his life, Bernstein even considered writing an opera based on Nabokov's Lolita.
Although Bernstein's concert works reveal the influence of many composers—Hindemith, Britten, Shostakovich, Brahms, and Rachmaninoff, to name a few—almost everyone would agree that there is a characteristic and unmistakable "Bernstein sound": rhythmic vitality, beautiful lyricism, a cosmopolitan capacity to fuse multiple musical styles. All these characterize this sound, but it is nearly impossible to pinpoint his music's distinctive qualities.
Two other hallmarks of Bernstein's concert works are a strong interest in Jewish music and a penchant for autobiography. His first symphony, "Jeremiah," echoes Hebrew melodies and is dedicated to his father, who made Bernstein attend Hebrew school and who often sang Jewish songs in the shower. The "Kaddish" Symphony and the Chichester Psalms also reveal the depth of Bernstein's interest in Judaism. The Divertimento has wistful autobiographical musings on Bernstein's boyhood and teenage years and includes a playful birthday song for his daughter Jamie.